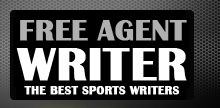 Yankee Addicts
Categories
Featured Sponsors
News published by
April 14, 2011
NFL Draft 2011 Experts Agree Cam Newton Is The Pick For PanthersIt's looking more and more likely that for a second straight year in the NFL draft, a Heisman winning ...
April 14, 2011
The 2011 NFL Draft is inching closer and closer. As always, prospects continue to rise and fall with frequency as teams review their notes and NFL scouts give their latest ...
April 12, 2011
2011 NFL Mock Draft Gives Texans Versatile Pass Rusher in Quinn 2011 NFL Mock Draft Pick No. 11: Robert Quinn, North Carolina, DE/OLB When it comes to the Houston Texans, ...
April 12, 2011
2011 NFL Mock Draft Gives Vikings Young Athletic Quarterback in Jake Locker 2011 NFL Mock Draft Pick No. 12: Jake Locker, QB, Washington The rumors are heating up that Donovan ...
April 12, 2011
2011 NFL Mock Draft Gives Detroit Lions Much Needed Secondary Help 2011 NFL Mock Draft: Prince Amukamara, CB, Nebraska Amukamara is someone available that has Top 10 talent but drops ...
April 12, 2011
2011 NFL Mock Draft Gives Rams Big Defensive Lineman No. 14 NFL Mock Draft Pick: Corey Liuget, DT, Illinois For St. Louis, there are two major needs they can ...
April 8, 2011
The Houston Texans were the worst team when it came to pass defense last season—they led the league in passing yards allowed and tied for the league-worst in TD's allowed.This ...
March 30, 2011
Seattle Passes on Quarterback For Interior Lineman Dan Watkins No. 25 Mock Draft Pick: Dan Watkins, OG, Baylor While some believe that the Seahawks need to address their quarterback needs ...
March 30, 2011
Baltimore Ravens Find Possible Draft Steal in Underrated Smith No. 26 Mock Draft Pick: Jimmy Smith, CB, ColoradoWith all the experts raving about the All-Pro potential of cornerback's Patrick Peterson ...
February 6, 2011
Ben Roethlisberger is on the verge of putting himself among elite company with another Super Bowl win today.One more win and he gets three, he goes one up over John ...