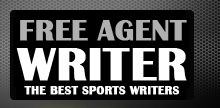 Yankee Addicts
Categories
Featured Sponsors
January 6, 2011 · Brian DiTullio · Jump to comments


Jason Garrett is expected to be announced as the Cowboys next head coach at a press conference this afternoon.
Garrett will have the interim tag removed from his title in one of the least surprising coaching hires ever. Garrett took over the Cowboys fired Wade Phillips, and it may as well have been a completely different team.
The only thing keeping this hire from being announced sooner was the Cowboy's requirement to fullfil the Rooney Rule obligation and interview a minority. Unlike other token interviews that completely violate the spirit of the Rooney Rule, the Cowboys appear to be using the rule to hire their assistant coaches, which is something anyway.
But that's a whole different argument, right now Garrett is the man in Dallas, and Cowboys fans should be excited because he brought an energy to the team that was sorely lacking in Wade Phillips. Phillips may be a great defensive coordinator, but he just wasn't cut out to be a head coach.
For a look...

Read Complete Article at Bleacher Report - NFL
Article is property of BleacherReport.com