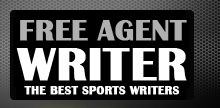 Yankee Addicts
Categories
Featured Sponsors
January 3, 2011 · Brian DiTullio · Jump to comments


Jeff Fisher's fate comes down to which side Tennessee Titans Owner Bud Adams decides to come down on.
The rift between quarterback Vince Young and fisher widened this year to the point the two sides probably no longer can work together. Young has been inconsistent, immature, and Fisher is just tired of dealing with it.
What's amusing about this situation to an outsider is Fisher clearly has the moral high ground in this argument, and while Young has all the physical skills to be a successful starting quarterback in the league, he's so lacking between the ears when it comes to maturity that all that talent is wasted.
But Adams reportedly really likes Vince Young, and also doesn't like confrontations. So one or the other has to go, and if the Titans choose Young, Fisher has plenty of opportunities waiting for him elsewhere, and the Titans can continue to have a quarterback who will let the pressure get to him.
For a look at the Titans roster, check out Pote...

Read Complete Article at Bleacher Report - NFL
Article is property of BleacherReport.com