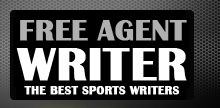 Yankee Addicts
Categories
Featured Sponsors
January 4, 2011 · Adam Wells · Jump to comments


Jim Harbaugh: Dolphins Reportedly Interested In Coveted Coach
Well apparently a big win in an NFL teams stadium can get your name on their radar. With Stanford's victory in the Orange Bowl, in Miami, the Dolphins are reportedly ready to make a big push for Jim Harbaugh.
In the report, which is on thebiglead.com, during Stanford's time in Miami the Dolphins contacted Harbaugh and there appeared to be some serious interest from both parties.
This move makes some sense for Harbaugh because the Dolphins have the talent in place to win right now, they just need to find some consistency at the quarterback position.
It's been assumed that Harbaugh is likely to stay on the west coast, but maybe the allure of a warm weather city can entice him away from the pacific timezone.
Another issue is that the Dolphins have a head coach, Tony Sparano. There have been some rumblings about his future. As the report mentions at the end, it could be one of those deals wh...

Read Complete Article at Bleacher Report - NFL
Article is property of BleacherReport.com