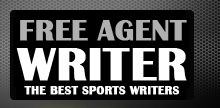 Yankee Addicts
Categories
Featured Sponsors
January 4, 2011 · Adam Wells · Jump to comments


Jim Harbaugh: Why The NFL Looks Like It Will Be His Landing Spot
Well it looks like we can scratch one name off of the list of places that Jim Harbaugh will be coaching in 2011.
According to a report in The Detroit Free Press, a source close to Harbaugh says that he is not likely to coach at the University of Michigan.
So what exactly does that mean for Harbaugh's future?
It's widely known that he is going to make his decision in the middle of this week. This makes his path a little more clear. There is a chance that he can stay at Stanford, but right now that seems unlikely. He is going to go to the NFL.
We just don't know where exactly. San Francisco seems to be making the biggest push to get him. Denver is trying to get him to come on board.
With Michigan out of the running, it is clear that Harbaugh will be in the NFL in 2011.
Related Story: 10 Reasons The 49ers Job Is Better For Harbaugh Than Michigan
...
Read Complete Article at
Bleacher Report - NFL
Article is property of BleacherReport.com