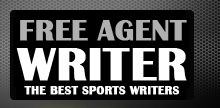 Yankee Addicts
Categories
Featured Sponsors
January 3, 2011 · Adam Wells · Jump to comments


John Elway: Is He Recruiting Jim Harbaugh To Coach Denver?
Stanford graduate, and new Denver Broncos front office executive, John Elway is going to Miami tonight to watch the Orange Bowl between Stanford and Virginia Tech.
Listening to ESPN's Adam Schefter, he says that Elway is going to this game to do more then just support his alma mater.
He is hoping to recruit Jim Harbaugh to be the next head coach of the Denver Broncos.
That has to feel a little bit like a catch-22 for Elway. On the one hand, he wants Stanford to do well and Harbaugh is the best man for that job. On the other hand, he is synonomous with the Denver Broncos and wants them to be successful and he sees how good of a coach Harbaugh is.
Jim Harbaugh is going to have his choice of jobs after this Orange Bowl game.
John Elway just wants to give him a little nudge in Denver's direction.
Related Story: 7 Keys To A Successful 2011 For The Broncos
...
Read Complete Article at
Bleacher Report - NFL
Article is property of BleacherReport.com