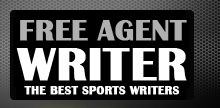 Yankee Addicts
Categories
Featured Sponsors
January 27, 2011 · Brian DiTullio · Jump to comments


Julius Peppers playoff check will be $10,000 lighter after the league fined him for his helmet-to-helmet hit on Aaron Rodgers.
That call was a no-brainer when the flag was thrown, and Peppers should know better by now. You just can't lead with your helmet in the NFL anymore. Even though Peppers wrapped Rodgers up, the helmet lead the way.
Rodgers credits his new helmet design for saving him from sustaining his third concussion on the year, and everyone should be happy about that.
The helmet-to-helmet debate will rage through the offseason, not that it's going away, but the teams may insist the league clarify the rule a little more. A DVD showing what kinds of hits were and weren't acceptable was sent out, but NFL Players notoriously are hard-headed, if you'll excuse the pun.
Peppers got off easy, though, ask James Harrison how much some of his hits cost him. But Peppers wasn't flexing his arms and bragging about the hits after the game either.
Pepp...

Read Complete Article at Bleacher Report - NFL
Article is property of BleacherReport.com