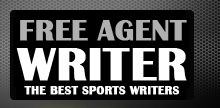 Yankee Addicts
Categories
Featured Sponsors
January 6, 2011 · Brian DiTullio · Jump to comments


Matt Cassel has a big job ahead of him this weekend when his team takes on the Baltimore Ravens. Cassel really started emerging this year after a poor 2009 showing.
Cassel first made it big with New England in 2008 filling in for the injured Tom Brady. Cassel's production this year steadily increased, but a series of protection breakdowns late in the season seriously limited his production.
Still, on the year, Cassel threw 27 touchdowns and only seven interceptions. Those are good numbers no matter what, and the Chiefs can feel comfortable about the future with Cassel.
That being said, you don't want a Tony Romo/Donovan McNabb situation where the quarterback is usually great in the regular season before barfing all over his shoes in the postseason.
For those who take issue with that statement, look at Romo and McNabb's records and stats in the playoffs. Neither is as good as their regular season stats would indicate they should be.
But Cassel will ...

Read Complete Article at Bleacher Report - NFL
Article is property of BleacherReport.com