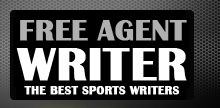 Yankee Addicts
Categories
Featured Sponsors
December 30, 2010 · Brian DiTullio · Jump to comments


Michael Vick, suffering from a thigh bruise, probably will not see any playing time Sunday in the regular season finale versus Dallas.
Vick, who was visibly limping during the Viking's game Tuesday night, needs the rest more than he needs the playing time as the Eagles now are playing a meaningless game in the standings. The Eagles are locked into the No. 3 seed, according to NFL.com, and the Eagles need a healthy Vick going into the playoffs.
The Eagles still have Kevin Kolb, though, and this could be a blessing in disguise as a good showing by Kolb on Sunday only will increase his trade value in the offseason. Even if Kolb has a bad day, it can be chalked up to rust after having sat on the bench for almost two months.
The Eagles want to be ready for the playoffs, so there's no guarantee any of the starters will play more than a few series, so that puts the outcome of the game in doubt.
For a look at my pick for the game, plus every other team, check out...

Read Complete Article at Bleacher Report - NFL
Article is property of BleacherReport.com