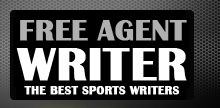 Yankee Addicts
Categories
Featured Sponsors
February 15, 2011 · Tony Santorsa · Jump to comments


BenJarvus Green-Ellis is one of many New England Patriots free agents, and he should be considered a top priority.
Once the uncertainty regarding the current CBA is resolved, New England must re-sign Green-Ellis.
Green-Ellis, commonly known as the "Law-Firm", became the first New England 1,000 yard rusher since 2004, and has expired and is up for free agency.
The "Law-Firm" will enter free agency as a restricted free agent, and the Patriots must bring him back—he's the perfect running back for Tom Brady and the New England offense.
Watch a BenJarvus Green-Ellis highlight tape here
NOTE: This article was first seen at PatriotsPlus.net.
Be sure to follow Tony Santorsa on Twitter @ TonySantorsa.