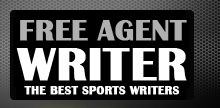 Yankee Addicts
Categories
Featured Sponsors
April 10, 2011 · Trae Thompson · Jump to comments


Cowboys need to figure out what kind of player they prefer once and for all
I know it's a pipe dream, but indulge me for a minute would you.
As Jason Garrett, Jerry Jones and the rest of the Dallas Cowboys brass prepare for the NFL Draft, I have a few questions bouncing through my mind. I wonder if there are five different strategies in the room. Or just one (Jerry's). I wonder if they're overlooking a player's intelligence and character as long as it looks like he can rush a passer. I also wonder if they're ignoring excessive penalties or a consistent pattern of negative yardage they seen on film.
Dallas has a chance to build for the future with this draft and correct its string of abysmal selections, but I think the organization needs to take a look and figure out just what kinds of players they're aiming for. So, since they don't seem to have a clue, I'm going to offer up my thoughts.
I could be way off, but we'll see:
1.) Stop the enabling: For...

Read Complete Article at Bleacher Report - NFL
Article is property of BleacherReport.com