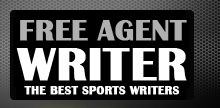 Yankee Addicts
Categories
Featured Sponsors
December 30, 2010 · Brian DiTullio · Jump to comments


NFL Playoff Picture: Seahawks Could Get In At 7-9
The Seahawks have a chance to make the playoffs Sunday night by beating the St. Louis Rams. If the Rams lose that drops them to 7-9, but the Seahawks have the edge in the division.
The Seahawks won't be doing it with Matt Hasselbeck, though, as he is suffering from an abdominal strain. Given how Hasselbeck has played this year, though, Whitehurst may have been getting the start anyway.
The Seahawks may be looking to upgrade the quarterback position in the offseason now, and this game will give them a good look at how Whitehurst performs in what will be the biggest game of the year for the franchise.
The Rams have Sam Bradford, which gives them an edge in the game as Bradford now looks like a quarterback in his second year rather than a raw rookie.
While the Sunday night game may end up being meaningless in the long run once the playoffs start, it could be very meaningful for the Seahawks as they try...

Read Complete Article at Bleacher Report - NFL
Article is property of BleacherReport.com