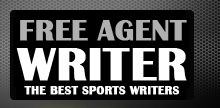 Yankee Addicts
Categories
Featured Sponsors
January 13, 2011 · Adam Wells · Jump to comments


NFL Playoff Predictions: Can Baltimore Win In Pittsburgh...Again?
This weekend's slate of NFL playoff games gets underway Saturday with the Baltimore Ravens and Pittsburgh Steelers for the third time this season.
Each team won on the other's home field. The Ravens won in Pittsburgh, 17-14 in week 4, when the Steelers were without Ben Roethlisberger.
The Steelers were able to knock off the Ravens in Baltimore, 13-10, in one of the most physical games of the season.
Now the two teams will meet one more time to determine who will play for the AFC championship.
Can the Ravens win in Pittsburgh twice in one season?
Looking back at the week 4 game between these two teams, the Steelers had the game in hand up until Joe Flacco led a game-winning drive late. He connected with TJ Houshmandzadeh with 32 seconds left to give the Ravens a 17-14 win.
If the Ravens want to win in Pittsburgh again, Flacco is the key. He has to play like he did i...

Read Complete Article at Bleacher Report - NFL
Article is property of BleacherReport.com