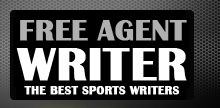 Yankee Addicts
Categories
Featured Sponsors
January 13, 2011 · Adam Wells · Jump to comments


NFL Playoff Predictions: Can The Seahawks Catch Lightning In A Bottle, Twice?
Eight days after the Seattle Seahawks shocked the world and knocked off the defending Super Bowl champion New Orleans Saints they play Chicago for a chance to play for the NFC championship.
Can they pull off another upset?
Yes, the Seahawks beat the Bears in week 6, but that was a different team. The Bears didn't have linebacker Lance Briggs. The offensive line was a mess, it still is but they have gotten better. Matt Forte has found his stride and looks like he did in his rookie season in 2008.
But the biggest difference between the Bears and Saints is the defense.
The Saints defense had solid numbers overall, but they have had big holes for a long time and they were exposed against Seattle.
The Bears defense has some holes in it but they are better overall then the Saints. They have a legitimate pass rush, which is something that the Saints don't h...

Read Complete Article at Bleacher Report - NFL
Article is property of BleacherReport.com