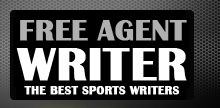 Yankee Addicts
Categories
Featured Sponsors
January 12, 2011 · Brian DiTullio · Jump to comments


NFL Playoff Predictions: Will Cam Newton Help A Team To The 2012 Postseason?
Cam Newton is being talked about as a potential No. 1 overall draft pick, but hype aside, it is very likely Newton will end up being drafted in the first round.
Too many teams need new quarterbacks, and if there's no new collective bargaining agreement in place by the draft, a lot of these teams, unable to sign a free agent, will be taking a quarterback in the draft just to have something new to work with.
The question is who Newton will go to, and how effective he can be in the pros. Newton has the build of a tight end, and he has thrived in a college system where his receivers are wide open.
Things will be a lot different in the pros, and Newton's short college career works againt him. He will require a lot more development time, and he has real bust potential if he's not handled and coached properly.
For a look at the draft, check out the Most Shocking Picks Of The Last...

Read Complete Article at Bleacher Report - NFL
Article is property of BleacherReport.com