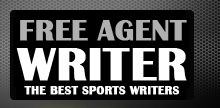 Yankee Addicts
Categories
Featured Sponsors
January 3, 2011 · Brian DiTullio · Jump to comments


The NFL Playoff Schedule now is set, and the Seattle Seahawks will be hosting the New Orleans Saints this coming Saturday at 4:30 p.m.
The Seahawks seemingly have the edge here with homefield advantage, and making the Saints travel across country on a shorter week.
But the fact is that even though the Seahawks just won, they barely beat the St. Louis Rams. The NFC West was awful this season, and a close game between two NFC West teams, as this one was, isn't a sign of encouragement for the winning team.
The Saints pounded the Seahawks 34-19 in New Orleans in Week 11, and after dropping two games to Atlanta and Tampa Bay, the Saints are going to be extra-motivated to look good on national television.
The NFC West was terrible this year, and there's just no way a 7-9 team like the Seahawks makes it past the Wildcard round. Strange things can happen, but the Seahawks defense is consistently picked apart by superior teams, and Charlie Whitehurst won't be ente...

Read Complete Article at Bleacher Report - NFL
Article is property of BleacherReport.com