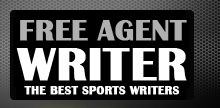 Yankee Addicts
Categories
Featured Sponsors
January 12, 2011 · Adam Wells · Jump to comments


NFL Playoffs: Atlanta Falcons Are The Forgotten Team In The Playoffs
The Atlanta Falcons might be the quietest No.1 seed in the NFC in recent memory. That could be because they didn't get a lot of national exposure this year (they played in two primetime games, but one was on the NFL Network whose games only draw about 6-7 million viewers).
It could also be done by design. The Falcons have a number of talented players, led by quarterback Matt Ryan. But when you watch them they don't do anything that really stands out and grabs you.
Offensively they ranked 15th in pass yards per game (222.9) and 12th in rush yards per game (118.2). Roddy White did lead the league with 115 catches and one of the most explosive receivers in football.
Defensively they were 22nd against the pass and 10th against the run. Those aren't numbers that reach out and scream 13 win team and possible Super Bowl appearance.
The one thing they do well is play fundamental football....

Read Complete Article at Bleacher Report - NFL
Article is property of BleacherReport.com