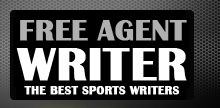 Yankee Addicts
Categories
Featured Sponsors
December 21, 2010 · Adam Wells · Jump to comments


NFL Power Rankings Week 16: 2. Atlanta Falcons (12-2) - Last Week's Rank: 2
Why They Stayed The Same: It seems that people think of Atlanta much the same way they do about the Bears. They are a nice team that does some things well but they aren't going to necessarily WOW! you in any one category.
However, that's doing a disservice to the Falcons because they have something the Bears don't: Matt Ryan.
Ryan may not quite be able to do the things that guys like Manning or Brady can, but in a situation where the team needs to score there isn't anyone I would take over him. He is as good as any quarterback in football at running the two minute drill.
They can clinch the top seed and home-field advantage throughout the NFC playoffs with a win over New Orleans next Monday night.
Related Story: Is Matt Ryan Having A Better Year Than Tom Brady?
...
Read Complete Article at
Bleacher Report - NFL
Article is property of BleacherReport.com