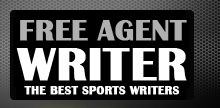 Yankee Addicts
Categories
Featured Sponsors
December 21, 2010 · Adam Wells · Jump to comments


NFL Power Rankings Week 16: 1. New England Patriots (12-2) - Last Week's Rank: 1
Why They Stayed The Same: What's left to be said about the Patriots that hasn't already been said yet?
They have answered almost every question that we had about them before the season and they seem to be getting stronger each week.
Tom Brady will be the NFL MVP and he is having an unbelievable season, even better than his MVP season of 2007 because of who he is throwing to this year compared to that year.
The defense is a bend-but-don't-break unit. They will give up a lot of yards and they will give up some points but when they have had to make a play this season they have risen to the occasion.
The road to the Super Bowl in the AFC is going to go through New England for the fourth time in the last eight years.
Related Story: Brady Vs. Vick: Who Is MVP After Week 15?
...
Read Complete Article at
Bleacher Report - NFL
Article is property of BleacherReport.com