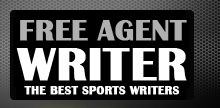 Yankee Addicts
Categories
Featured Sponsors
December 21, 2010 · Adam Wells · Jump to comments


NFL Power Rankings Week 16: 5. Chicago Bears (10-4) - Last Week's Rank: 8
Why They Moved Up: In what may have been Brett Favre's (hopefully) final game in the NFL, the Bears happened to win the NFC North division with a 40-14 victory over Minnesota on Monday night.
They haven't been the most glamorous or sexy team this year but they have been able to do enough to win their games.
I don't know how good they really are, they don't scare me as a team that will make it to the Super Bowl, but they have put together a very good season.
The defense has been strong, led by Julius Peppers and Brian Urlacher.
The offense isn't very good overall but they do enough to get by.
It sounds like a bashing of the team but it's more of an honest assessment of where they are.
Related Story: Devin Hester Breaks NFL Return Record
...
Read Complete Article at
Bleacher Report - NFL
Article is property of BleacherReport.com