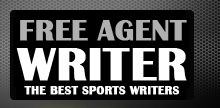 Yankee Addicts
Categories
Featured Sponsors
December 23, 2010 · Brian DiTullio · Jump to comments


The Pittsburgh Steelers take on the Carolina Panthers tonight, and like Festivus, it should begin with the Airing Of The Grievances.
The Steelers offense is terrible because they have one of the best quarterbacks in the league, but Offensive Coordinator Bruce Aryans seem incapable of taking advantage of Ben Roethlisberger's talents, instead plugging in plays that only highlight the weaknesses of the offensive line instead of trying to minimize it.
The Steelers have become the elite team they claim to be through years of running the ball and just pounding the ball down the throats of their opponents. Aryans won't have that, though, and Rashard Mendenhall's 1,173 yards going into tonight's game actually is low for a back of such talent.
Mendenhall should be challenging for a 2,000-yard season, but the aforementioned weak offensive line and poor gameplanning have given him relatively low numbers.
The defense is not as good to an alarming degree without Troy ...

Read Complete Article at Bleacher Report - NFL
Article is property of BleacherReport.com