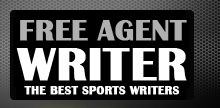 Yankee Addicts
Categories
Featured Sponsors
February 2, 2011 · Ryan Lester · Jump to comments


The disparity of starting running backs in Super Bowl XLV is one of the biggest gaps at any position.
Rashard Mendenhall had 1,273 yards and 13 touchdowns. He also had 167 yards on the ground.
Green Bay is on their third starter in James Starks. He had just 101 yards in the regular season before racking up 263 in three playoff wins. While he's experienced success the past few weeks, he's still a notch below Mendenhall.
While Mendenhall is my top-ranked fantasy running back for Super Bowl XLV, the margin isn't nearly as great thanks to Maurkice Pouncey's ankle injury that will likely keep him out of the big game, or at least limit him.
After Mendenhall, Starks is second. He's had success against the Eagles (15th-ranked run defense), Atlanta (10th) and Chicago (2nd), but Pittsburgh has been downright nasty. They gave up the fewest yards in the league at 62.8 per game, and it wasn't even close as the Bears gave up 90.1 YPG. They also allowed a league low three yards per carry.
Despite the tough draw, he's second because he'll get the most touches.
At No. 3, I'll put John Kuhn. His tough inside running could yield a short touchdown run. He has also been more involved in the passing game in recent weeks.
At four is Brandon Jackson. He lost the starting job to Starks, but still gets a handful of carries. He's also used on third downs in the passing game.
Isaac Redman had just five carries in the playoff wins over the Ravens and the Jets. Mewelde Moore had three carries and a catch. I don't like either option, but I'd rank Redman slightly ahead of Moore.
Also check out
Read more NFL news on BleacherReport.com