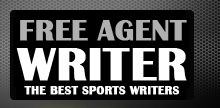 Yankee Addicts
Categories
Featured Sponsors
December 10, 2010 · Paul Mueller · Jump to comments


With time winding down in the Tampa Bay Buccaneers' divisional clash with the Atlanta Falcons in Week 13, quarterback Josh Freeman was driving his team down the field in search of yet another fourth-quarter comeback for the young emerging star.
Just inside two minutes, the drive stalled, as Falcons cornerback Brent Grimes jumped an out route, lunging forward for the interception.
As Grimes got up and started running, Freeman took out his frustration.
Grimes was pushed out of bounds on his return and Freeman tracked him down, shoving him to the ground on the sideline.
He was flagged for unnecessary roughness and penalized 15 yards, but the damage had been done. The Buccaneers would lose the game, 28-24.
And that wasn't the end of it.
The NFL fined Freeman $5,000 for the hit this week.
For the 6'6'', 249-pound Freeman, it was likely worth it, as the 5'10'', 181-pound Grimes gave him fits throughout both the teams' meetings this season, both Atlanta wins with the Buccaneers coming up short on late-game drives.
The loss all but eliminates the Buccaneers from divisional contention, as they would need to run the table and have the Falcons drop their remaining four games to win the NFC South.
Their playoff hopes also took a hit, as they slide two spots out of the final Wild Card spot, meaning they will likely have to run the table to make the playoffs or at least finish 3-1 and get a little help.
The Buccaneers travel to Washington to face the Redskins Sunday at 1 p.m. EST.
This article can also be found at www.footballnewsnow.com.
Read more NFL news on BleacherReport.com