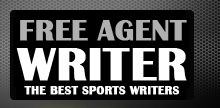 Yankee Addicts
Categories
Featured Sponsors
News published by
March 15, 2011
The Carolina Panthers are scheduled to hold a private workout with former Arkansas University quarterback Ryan Mallett Tuesday, according to the National Football Post.While the scouting reports indicate that Mallet ...
February 8, 2011
New Orleans Saints quarterback Drew Brees is looking ahead to life after football, and it doesn't include a move to the press box. It involves a move to politics. "Definitely, politics fascinates ...
February 5, 2011
The Carolina Panthers added linebackers coach Warren Belin and running backs coach John Settle to new head coach Ron Rivera's staff Friday. Belin spent last season at the University of Georgia ...
January 11, 2011
With defensive line coach Todd Wash's contract expiring, the Tampa Bay Buccaneers have offered the position to the Minnesota Vikings' Karl Dunbar, according to the Minneapolis Star-Tribune. Dunbar is left ...
January 9, 2011
If you looked at the New Orleans Saints' offensive stats, you'd think they rolled through the first round of the playoffs. You'd feel sorry for the other team. They put up ...
January 4, 2011
New Orleans Saints rookie running back Chris Ivory has been placed on injured reserve with a foot injury suffered in the Week 17 loss to the Tampa Bay Buccaneers.Ivory led ...
January 1, 2011
Whatever the NFL did to make Week 17 games more meaningful, it certainly worked.The New Orleans Saints host the Tampa Bay Buccaneers Sunday in a game loaded with playoff implications. ...
December 24, 2010
Atlanta Falcons' wide receiver Roddy White became the third player in franchise history to catch 100 passes in a season with his seven catches against the Seattle Seahawks in Week ...
December 23, 2010
The Tampa Bay Buccaneers had a forgettable 2009 season. Led by a rookie quarterback, they did not post a win until midseason and entered Week 15 with a 1-12 record and ...
December 21, 2010
Atlanta Falcons tight end Tony Gonzalez added another NFL record to his Hall of Fame resume Sunday against the Seattle Seahawks. Gonzalez's four catches Sunday gave him 62 for the season, ...