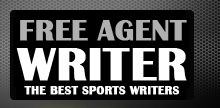 Yankee Addicts
Categories
Featured Sponsors
News published by
January 9, 2011
Tim Tebow performed much better than his critics expected him to over the course of his first three starts in the NFL. Even as many continue to hope for his failure, ...
November 6, 2010
Peyton Hillis is the deadliest dawg in the pound, and I expect the Browns to let him loose this week against the New England Patriots. His production has tapered off a ...
October 27, 2010
The Cleveland Browns starting running back Peyton Hillis, is the NFL's Chuck Norris.  This is no longer a secret.  Chuck Norris is the toughest, coolest man in Hollywood.  Peyton Hillis is ...
October 16, 2010
By now, everyone knows that Peyton Hillis is the NFL's version of Chuck Norris.  He's a tough, no-nonsense, downhill running beast.  He is taking the league by storm in Cleveland, ...
October 11, 2010
Everyone has heard a bunch of different stuff about Mormons.  Some of it's true, but a lot of it is false. What a lot of people may not know about them ...
October 4, 2010
On March 15 of this year, the Broncos sent fullback Peyton Hillis, a 2011 sixth-round draft pick and a 2012 conditional draft pick to the Cleveland Browns for quarterback Brady ...
September 29, 2010
I've said it before and I'll say it again, "Free Timmy T!" The Bronco offense was pitiful in the red zone against the Indianapolis Colts last week. Denver fans are eager ...
September 23, 2010
The Miami Heat weren't the only South Beach team to recently pick up a superstar or two.  Lebron James overshadowed the Dolphins offseason acquisitions of Karlos Dansby and All-Pro wide receiver Brandon ...
September 23, 2010
The Denver Broncos had little trouble in their Week 2 matchup against the Seattle Seahawks.  They were in complete control for the vast majority of the contest.  They forced turnovers ...
September 19, 2010
Tim Tebow's stat line from week 1 against the Jacksonville Jaguars: two carries for two yards.  Those two runs out of Denver's "Wild Horse" formation were thoroughly uninspired and had ...