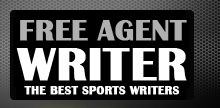 Yankee Addicts
Categories
Featured Sponsors
News published by
October 9, 2010
This past offseason, the Philadelphia Eagles traded away Donovan McNabb to make room for Kevin Kolb as the quarterback of the future. It hasn't happened. Kolb played a half before ...
September 14, 2010
The Birds recently dropped a tough one to the Packers, as I'm sure every Eagles fan knows. All in all, it was a great game. The Eagles dug themselves into a ...
May 2, 2010
The Philadelphia Eagles will come into 2010 with a bad taste in their mouths. Why? Because the hated Cowboys destroyed them in each of their final two match-ups of last year. You better ...
April 9, 2010
11 years. 11 years with McNabb under center. 11 years of ifs, wouldas, and almosts. So now, after 11 years, Donovan McNabb has moved on. He's a Washington Redskin. During his tenure, there was ...
February 17, 2010
That close to the Super Bowl. Just make that throw and get into field goal range. He drops back, he looks, he's got no one. He scrambles to the outside, finding ...
February 14, 2010
Welcome to the eighth edition of "Daily Random Sports Thoughts!" For those not familiar, I pick a team, player, or any other topic in sports that I have five random thoughts about.  If you ...