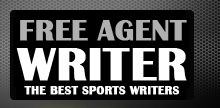 Yankee Addicts
Categories
Featured Sponsors
News published by
May 1, 2013
Fans and teams right around the league will look to their first-round draft pick throughout the course of any given season, but often, it's their second-round picks that prove to ...
April 30, 2013
The 2013 NFL Draft is complete, with all selections made and being analyzed by teams and fans right across the globe. And like every year, some picks seemed to make ...
March 16, 2013
Despite reportedly remaining on the trade market, star cornerback Darrelle Revis is still getting paid by the Jets—earning a $1 million roster bonus (per NFL.com).Kareem Copeland reports that the All-Pro ...
March 16, 2013
After losing Martellus Bennett to the Chicago Bears, the New York Giants enter the 2013 season with a huge hole in their offense at tight end.Were the season to start today, ...
March 10, 2013
Star running back Reggie Bush will test the waters as an NFL free agent in 2013, after not having his contract rented with the Miami Dolphins.The Miami Herald reports (per ...
March 6, 2013
Free agency in the NFL can be a little bit like Christmas, with a number of top players seemingly available for purchase for the new year ahead.Of course it's nowhere ...
March 5, 2013
Auburn running back Onterio McCalebb has again wowed NFL scouts with a phenomenal 40-yard-dash time—this time at the Auburn Pro Day with an unofficial 4.29.  After wowing the 2013 NFL Scouting ...
February 27, 2013
Alabama cornerback Dee Milliner will go in the top 10 selections of the 2013 NFL Draft—there can simply be no arguing or disputing that fact.His performance at the 2013 NFL ...
February 27, 2013
Margus Hunt emerged from the 2013 NFL Scouting Combine as one of the hottest prospects in the draft class this year thanks to a remarkable showing in Indy.The 6'8", 275-pound ...
February 17, 2013
The Indianapolis Colts stunned the National Football League yesterday with the news that former All-Pro defensive end Dwight Freeney would not be resigned.Bob Kravitz of the Indianapolis Star broke the news earlier ...