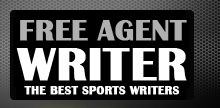 Yankee Addicts
Categories
Featured Sponsors
News published by
March 10, 2016
Brent Grimes became a free agent this week, and teams are fearful to sign the veteran cornerback because of his wife, according to Bleacher Report's Jason Cole.  Grimes's wife, Miko Grimes, ...
March 10, 2016
As the ink dries on quarterback Brock Osweiler's new contract with the Houston Texans, incumbent starter Brian Hoyer's future with the team is very much in question.  Continue for updates.  Jets Could ...
March 10, 2016
Cortez Allen is only halfway through the four-year, $24.6 million extension he signed in 2014, but the veteran cornerback could have to restructure that deal to remain with the Pittsburgh Steelers.  Continue for ...
March 10, 2016
Former Dallas Cowboys running back Lance Dunbar is coming off a season-ending knee injury as he hits free agency. Continue for updates. Dunbar to Meet with 49ers Wednesday, March 9   A source told ...
March 6, 2016
The Carolina Panthers released Charles Johnson on March 3 after he spent nine seasons with the team, and the veteran defensive end is already interviewing with other teams. Continue for updates. Johnson ...
March 5, 2016
Running back Matt Asiata and the Minnesota Vikings have a mutual interest in joining forces again in 2016, according to Chris Tomasson of the St. Paul Pioneer Press.  Continue for updates.  Asiata, Vikings Intersted ...
March 4, 2016
Former Eastern Kentucky defensive end Noah Spence didn't impress at the NFL Scouting Combine, but he may have redeemed himself somewhat at his pro day Friday.  Continue for updates.  Spence Shines in ...
March 4, 2016
New Orleans Saints running back Khiry Robinson could be hitting the open market, as the team isn't expected to offer the restricted free agent a new contract, according to Mike ...
March 4, 2016
Doug Pederson is entering his first season as head coach of the Philadelphia Eagles, inheriting an offense that last year mightily underachieved its Super Bowl aspirations.    Gone is Chip Kelly, ...
February 29, 2016
Cincinnati Bengals linebacker Vontaze Burfict drew a three-game suspension from the NFL as a last straw of sorts for his hit on Pittsburgh Steelers wide receiver Antonio Brown in the ...