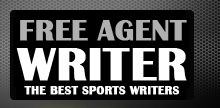 Yankee Addicts
Categories
Featured Sponsors
News published by DK
June 15, 2010
Dear Chan Gailey, First, let me say that I have high hopes for your takeover as Dick Jauron's replacement in the Northeast. My friend happens to be a die-hard Buffalo ...
June 10, 2010
With the unfortunate injury of outside linebacker Thomas Davis, could the Carolina Panthers be looking west for his replacement? Leroy Hill has been a staple at the outside linebacking position for ...
June 9, 2010
SATIRE— We Seahawks fans woke up this morning looking forward to some new articles written about yesterday's practice. Instead, we were inundated with reports concerning our shiny new wide receiver, Golden Tate, mixing ...