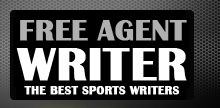 Yankee Addicts
Categories
Featured Sponsors
News published by
February 5, 2013
The New York Giants made their first roster move for 2013.The Giants defense will be letting go of one of their starting linebackers.Mike Garafolo of the Newark Star Ledger reported ...
January 6, 2013
Terrell Thomas' NFL career is at a bit of a crossroads right now.After being regarded as possibly the New York Giants's best cover corner, injuries have derailed his career.Thomas has ...
November 28, 2012
Andre Brown was having a fine season for the New York Giants in 2012.He was leading the team with eight rushing touchdowns and also had 385 yards with it, but ...
August 19, 2012
Normally, I'm not that big into preseason games. But tonight, I had quite an interest.All week, the local media was talking about the MetLife Bowl that would take place between ...
July 31, 2012
Before the 2011 season began, everyone was worried about the departures of Steve Smith and Kevin Boss as free agents.Remember when everyone wanted to get on Jerry Reese's case for ...
March 14, 2012
The first day of free agency in the NFL got off to a loud and thunderous start.Names like Vincent Jackson, Cortland Finnegan, Pierre Garcon, Josh Morgan and Marques Colston all ...
March 11, 2012
When free agency begins next week, the New York Giants are fully expecting Mario Manningham to bolt from the team.It's part of the business. Manningham wants more money than the ...