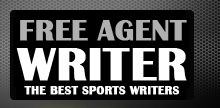 Yankee Addicts
Categories
Featured Sponsors
News published by
April 16, 2011
The Tennessee Titans need help at multiple positions, and Head Coach Mike Munchak, his coaching staff and scouts have a daunting task ahead. They will try to improve a very ...
April 9, 2011
In 2005 and 2006, The Titans made back-to-back first round picks, that in hindsight proved to be big time busts. I am also listing a few players that were available ...
February 18, 2011
The Titans have parted ways with Jeff Fisher and started a new era with new head coach Mike Munchak. Most people close to Munchak will tell you he is perfect ...
February 18, 2011
It's almost like Jerry Jones gathered the whole world together to watch his creation. The 2010 Dallas Cowboys were supposed to be poised to make a Super Bowl run and do ...