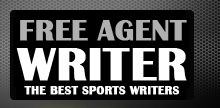 Yankee Addicts
Categories
Featured Sponsors
News published by
April 17, 2010
We thought Mike Tannenbaum was handcuffed going into what has been an eventful off-season. Tannenbaum creatively landed even more talent by filling the top needs at cornerback and wide receiver ...
April 6, 2010
NFL Network's Jason La Canfora reported the that Redskins dangled Albert Haynesworth in front of the beaks of the Eagles. Apparentely, Philadelphia was not interested, but eventually traded Donovan McNabb ...
March 29, 2010
Last summer the Jets were trying to acquire Broncos wide receiver Brandon Marshall but Denver's demands were too high. The asking price was at least linebacker David Harris and maybe ...
March 12, 2010
Free agent Darren Sharper just recently indicated he would like to join the Jets and thinks they would be a good fit for him. "I have the utmost respect for Rex ...
March 6, 2010
Cornerback Antonio Cromartie will join the Jets with strings attached, but paternity issues and all, then "risk was reasonable given the price we had to pay," according to Mike Tannebaum.  Well ...
March 3, 2010
The Raiders are shopping Pro Bowl cornerback Nnamdi Asomugha.  Asomugha said at the Pro Bowl last month that he was "dead serious" about his fantasy of playing alongside Darrelle Revis ...
February 19, 2010
Darrelle Revis is arguably the best cornerback in the league, and he is the "biggest reason" the Jets topped the league in pass defense (according to Rex Ryan) a year ...
February 13, 2010
The Jets don't have the premier pass rusher to complete their defense. Joey Porter is the perfect solution to their pressure woes.  Porter isn't officially a free agent until the signing ...