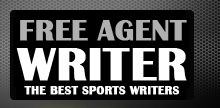 Yankee Addicts
Categories
Featured Sponsors
News published by
July 2, 2013
San Francisco 49ers quarterback Colin Kaepernick will be appearing in "The Body Issue," the bare-all annual released by ESPN: The Magazine along with other notable athletes. But unlike Gary Player ...
June 18, 2013
The NFL has had it up to here with your bags. Late last week, the National Football League announced a stark change to its policy regarding what bags fans can bring ...
June 12, 2013
The NFL no longer seems content to be the most popular sports league in the United States. No, the National Football League now has its sights set on world domination.The ...
June 4, 2013
Nobody can argue with the body of work we've seen from New England Patriots tight end Rob Gronkowski. His actual body, however, is falling apart faster than the plot of ...
May 29, 2013
You can count on one hand the rookie seasons in NFL history that measured up to that of Washington Redskins quarterback Robert Griffin III. With the 'Skins turning in a ...
May 28, 2013
It's business as usual in JerryWorld, where the NFL franchise in North Texas plays by its own set of rules. Consider the recent edict of Dallas Cowboys owner Jerry Jones ...
May 21, 2013
The Atlanta Falcons will be getting a new stadium in time for the 2017 season. It will be an open-air facility that many expect to compete for Super Bowl-hosting duties ...
May 14, 2013
The NFL produces over 250 rookies each season through both the draft and the subsequent "undrafted free agency" period. Some of them will win prominent jobs with their new teams' ...
May 3, 2013
When Russell Wilson was taken in the third round of the 2012 NFL draft, no one really thought too much of it—aside from the viral reaction from Mrs. Wilson. The Seahawks ...
December 19, 2012
Arian Foster has a pep talk for those of you who made it through your fantasy football semifinals. As you gear up for your respective Super Bowls, bask in the ...