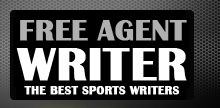 Yankee Addicts
Categories
Featured Sponsors
News published by
September 21, 2010
New York Jets star wide receiver Braylon Edwards became the latest headache for the team early this morning after he was arrested on a drunken driving charge.NYPD police had originally ...
September 20, 2010
The New York Jets played their division rival New England Patriots on Sunday afternoon and were completely manhandled by Bill Belichick's crew. For one quarter anyway. In a remarkable turn of events, ...
September 6, 2010
During today's press conference to officially announce the New York Jets' signing of Darrelle Revis, head coach Rex Ryan had this to say about the return of his All-Pro cornerback,"I ...
August 28, 2010
When the New York Jets won an ugly 9-3 preseason contest to the Carolina Panthers last weekend, Jets' quarterback Mark Sanchez had this to say, "It just wasn't a smooth night.  It wasn't ...
August 27, 2010
New York Jets' fans and Jets' management are growing tired- very, very tired.For almost a full month now, they have been exhausting themselves, asking the same question over and over and over ...
August 23, 2010
Whenever the New York Jets visit the Carolina Panthers in Charlotte, one thing is for certain: games get ugly.  Really ugly. In 2001, the Jets visited Carolina and escaped with an ugly 13-12 victory ...
August 17, 2010
"Let's come back hungrier than ever," stated New York Jets head coach Rex Ryan shortly after falling thirty minutes shy of a Super Bowl appearance. "Let's go take this thing. Let's ...
August 12, 2010
Shortly after his Jets lost the 2010 AFC Championship Game to the Indianapolis Colts, head coach Rex Ryan addressed the New York media and stated,"Let's come back hungrier than ever," ...
August 10, 2010
New York Jets' fans certainly have had a lot to be excited about in 2010: "It's great to be a Jets fan!  We're going to be featured on HBO!  Kornweiss is ...
August 3, 2010
As New York Jets' All-Pro cornerback Darrelle Revis flashes the universal sign of peace, Jets fans can only look at his hand gesture with one specific representation in mind—Day 2 of Darrelle's ...