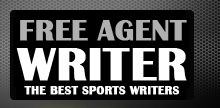 Yankee Addicts
Categories
Featured Sponsors
News published by
March 14, 2011
The NFL and the NFLPA were unable to strike a new labor deal last week (or even another extension), which means the 2011 NFL offseason and regular season are in ...
February 25, 2011
The best part about compiling an NFL mock draft is that you cannot be wrong...yet. With the combine under way, a lot can change between now and the actual ...
February 23, 2011
If fantasy football was the stock market and fantasy owners were stockholders, yesterday would have provided an early retirement for Jonathan Stewart and Jimmy Graham owners. In keeper/dynasty formats, ...
February 8, 2011
With all the uncertainty of the Collective Bargaining Agreement ahead for football fans, it is good to have one thing for certain: The 2011 NFL Draft. Despite the on-going labor negotiations ...
February 7, 2011
You are a football fan. You already know that the Packers outlasted Pittsburgh to win the Super Bowl yesterday in Dallas. Aaron Rodgers was great. He overcame a number of ...
February 3, 2011
Since this is a fantasy football blog and the biggest NFL game of the season is upon us, I figured now would be a good time to dip my feet ...
February 1, 2011
If you are going to bet on the Super Bowl at BetUS, for example, there are only two teams from which to choose. For Larry Fitzgerald's purposes, neither the ...
January 27, 2011
It is fair to say the jury is still out on Tim Tebow. He started only three games in 2010 as a rookie. And now he has to deal with ...
January 25, 2011
The Green Bay Packers and Pittsburgh Steelers punched their tickets to the Super Bowl this past weekend. It is really, really hard to overshadow the accomplishments of those two teams. But ...
January 21, 2011
Last weekend's games were full of intrigue and storylines. We kept our eye on four players from all the games, and here is how we think they fared. Mike Wallace, ...