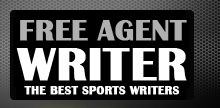 Yankee Addicts
Categories
Featured Sponsors
News published by
January 18, 2011
Fantasy owners have seen this act before. Last year, it was Shonn Greene against the Chargers. A few Super Bowls ago, it was Santonio Holmes dragging the toe for ...
January 14, 2011
Week two of the NFL playoffs brings football fans a weekend of rematches. All of these teams have played their opponents at least once this season. Two of the games ...
January 6, 2011
Christmas is widely considered the most wonderful time of the year, at least according to all the Christmas songs on repeat you hear throughout the holiday season. But for football ...
January 4, 2011
NFL fans have a lot to be thankful for this time of year. For now, at least, there is labor peace—and that means there is playoff football. So while the turmoil brews ...
October 27, 2010
One of the biggest story lines of the 2010 NFL season has been the number of concussions suffered by players around the league on a weekly basis. Perhaps the new concussion ...
October 27, 2010
So how many fantasy owners out there had Darren McFadden on the bench yesterday? Hopefully you took a chance on him and cashed in on his big day, but I ...
October 19, 2010
I covered several Week 6 injuries in yesterday's Monday Morning Rehab, but there were so many it deserved another post. Just a day later, at that. Of all the injuries suffered this ...
October 18, 2010
Decent amount of talent likely on your waiver wire this week. Several relatively unowned players had good fantasy days in Week 6, including a few breakthrough fantasy football performances.   QB Matt Cassel, ...
October 6, 2010
One NFL trade went down yesterday. Is another big one on the cusp? The Buffalo Bills shipped former first-round pick Marshawn Lynch to the Seahawks yesterday in a move that surprised ...
October 5, 2010
During the months of July and August, we asked fantasy football owners to submit their best fantasy football team names for the summer of 2010. We received dozens upon dozens of ...