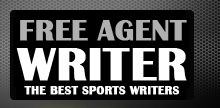 Yankee Addicts
Categories
Featured Sponsors
News published by
November 8, 2010
Mark Sanchez has arrived. The much-maligned New York Jet starter was calm, cool and collected as the Jets stormed back from a 10-point deficit to defeat the Detroit Lions 23-20 at ...
November 7, 2010
As the New York Jets continue to play .500 football at the New Meadowlands it looks like they are more likely to break a losing streak on the road. So the ...
November 6, 2010
After an 8-5 week, my record at the NFL halfway mark stands at 66-50. There are some major changes in my Power Rankings, with the New England Patriots now at No. ...
November 1, 2010
Miserable is the only way to describe the offense today as the New York Jets find themselves 2-2 in the new Meadowlands Stadium as they were blanked by the Green Bay ...
October 28, 2010
In another strange week of match-ups, I was a respectable 9-6 which brings me to 58-45 overall this season. The Pittsburgh Steelers remain No. 1, despite that gift from the referees ...
October 23, 2010
It will be a strange NFL weekend with neither the Jets or Giants playing on Sunday as the Jets have a bye week and Big Blue plays Monday night. Another mediocre ...
October 22, 2010
The Jets are 5-1 at the bye. and life is good. But a 5-1 start doesn't guarantee anything if previous Jets history has indicated with colossal collapses and chokes that have ...
October 18, 2010
Like a thief in the night, the New York Jets deflated a sell-out crowd at Invesco Field scoring on their final drive, thanks to Renaldo Hill's pass interference to set up a ...
October 17, 2010
Kyle Orton is on pace to break Dan Marino's single season passing yardage mark of 5,084 as he's currently throwing for nearly 350 yards per game and would finish with 5,545 total ...
October 9, 2010
My top five teams going into Week 5 are the Ravens, who remain at No. 1, the Packers at No. 2, Saints No. 3, New York Jets at No. 4 and the New England Patriots rounding ...