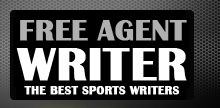 Yankee Addicts
Categories
Featured Sponsors
News published by
October 6, 2010
Well folks, it's official.  For the bargain basement rate of a third round pick, Randy Moss will be suiting up for the Minnesota Vikings for the remainder of 2010.  It's ...
October 1, 2010
I've been screaming from the mountaintops in probably one out of every four articles I write about the Patriots that Tom Brady simply isn't himself.  It's not as though it's entirely ...
September 26, 2010
A win is a win, or so I hear.  While the Patriots were less than impressive, they were up against a divisional opponent that was highly motivated to end their ...
September 5, 2010
The angst among Patriots' fans is becoming palatable.  In the matter of six weeks of preparation for the regular season, they've gone from a team with legit Super Bowl aspirations ...
September 3, 2010
The Patriots are likely to need an offensive outburst similar to the fireworks of 2007 to win games in 2010.  Especially early on, when a very green defense is getting ...
September 1, 2010
I hate to think of questioning Bill Belichick's ideology, methodology, or any other "ology" when it comes to football.  The man's forgotten more than I'll ever know, and has shown ...
August 29, 2010
After training camp starts, it's never too early to take a shot at predicting who will make the final roster.  Given Bill Belichick's propensity to go against the grain when ...
August 27, 2010
Let me preface this article with the following disclaimer: I have yet to watch the Patriots' third preseason game.  It wasn't available until 10 pm on NFL Network in my ...
August 24, 2010
As originally reported earlier today by Mike Reiss on ESPN Boston, Logan Mankins has apparently drawn a hard line in the sand. In keeping with quotes from his agent: "This team has ...
August 19, 2010
Who's the biggest clown in the picture? Personally, I'm voting for Tony Dungy, as his holier than thou ways have gotten on my nerves for years. I can't stand Rex Ryan either, ...