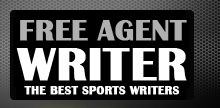 Yankee Addicts
Categories
Featured Sponsors
News published by
August 13, 2010
Per ESPN.com/Boston's Mike Reiss, Ty Warren's hip injury is serious enough to require surgery that will sideline him for the upcoming season.  The New England Patriots went ahead and placed ...
August 6, 2010
If you like the NFL, even a little bit, you cannot help but feel butterflies this time of year.  Is my team playoff-caliber?  What players will make the biggest leaps?  ...
August 3, 2010
If I were a Minnesota Viking fan, I would be irate this morning at being strung along in such a way, where they missed the chance to bring in a ...
July 28, 2010
I've been pretty hard on Bill Belichick the last couple of years in regards to his draft picks. I felt as though his drafts were overrated due to his ...
July 26, 2010
What has two thumbs and believes the Patriots are still the team to beat in the AFC East? This guy. It's not as though it's a stretch. They won it last ...
July 25, 2010
It's become very commonplace for self-proclaimed "fantasy gurus" to come up with a list of players on the verge that can be had as a bargain compared to the slot ...
July 17, 2010
Here I go: I'm going to channel my innermost Nostradamus, Mistress Cleo, and Swami all wrapped together to bring you 10 things related to the Patriots that will happen this ...
July 14, 2010
So, it turns out there really is a Satan, and he's decided to torment me...at least until the regular season starts with the Patriots' roster safely intact sans Terrell Eldorado Owens.  ...
July 12, 2010
Today we'll take a look at the Patriots' plethora of viable, mostly-older backs. They do not field any runners that command respect a la Adrian Peterson or Chris Johnson, ...
July 11, 2010
When a quote unquote Dynasty gets manhandled to the tune of 33-14 in a home playoff game; that's about the time it becomes patently obvious that a fairly major overhaul of the ...