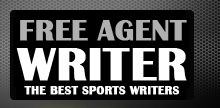 Yankee Addicts
Categories
Featured Sponsors
News published by
December 21, 2010
The Carolina Panthers' running game is showing signs of life. Jonathan Stewart tallied a season-high 137 yards on 27 carries in the Panthers' Week 15 win over the Arizona Cardinals. Stewart now ...
December 17, 2010
With a combined record of 5-21, the Arizona Cardinals at the Carolina Panthers is hardly a marquee matchup. But that doesn't mean there aren't implications. The Panthers are in desperate ...
December 17, 2010
In a season with practically no expectations, the Tampa Bay Buccaneers are assured something the Detroit Lions have tried to do for a decade: a .500 finish. They'll try to ...
December 16, 2010
In light of linebacker Geno Hayes' weekend arrest, the team's third arrest in as many months, quarterback Josh Freeman told the media Wednesday that team leaders are emphasizing off-the-field behavior. And ...
December 10, 2010
After a 2-0 start, the New Orleans Saints and quarterback Drew Brees hit an abnormally mediocre stretch in 2010—a stretch in which they were 2-3 with losses to the Arizona ...
December 10, 2010
With time winding down in the Tampa Bay Buccaneers' divisional clash with the Atlanta Falcons in Week 13, quarterback Josh Freeman was driving his team down the field in search ...
December 8, 2010
The 10-2 Atlanta Falcons top the ESPN.com power rankings once again, just ahead of the 10-2 New England Patriots. It is their fourth straight week in the top spot. The Falcons ...
December 8, 2010
Tampa Bay Buccaneers running back LeGarrette Blount and New Orleans Saints running back Chris Ivory are among the finalists for the Pepsi NFL Rookie of the Week for Week 13. Blount ...
December 2, 2010
Carolina Panthers head coach John Fox has taken some flak this week for benching star cornerback Chris Gamble last Sunday against the Cleveland Browns. Fox has eluded the situation in press ...
December 2, 2010
For the second straight week, Atlanta Falcons defensive end John Abraham and wide receiver Roddy White did not participate in Wednesday's practice. Running back Jason Snelling was also out of action. Moving ...