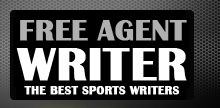 Yankee Addicts
Categories
Featured Sponsors
News published by
September 4, 2010
The league's defending champions when it comes to defensive side of the ball didn't make their way onto the field last night in the final exhibition matchup. But a group ...
August 25, 2010
    The rumors keep on growing. The reporters keep bashing each other. Nobody seems to have an actual grasp on what's going on. I'll preface this by telling you that I am not too ...
August 9, 2010
I thought the Jets would be smart and realize that it's best to end this problem before Hard Knocks premieres on Wednesday. I thought they would realize that enough is ...
August 4, 2010
Thank. God. Darrelle Revis made the right decision yesterday. He chose to play hard ball, so let the games begin. Instead of showing up for the mandatory start of training ...
June 10, 2010
As Mark Sanchez's second season leading the Jets comes closer and closer, one thing is on everyone's mind. Nobody wants to say it. Nobody wants to jinx the young quarterback, ...
June 9, 2010
The first part of this series got some very, very negative responses. A lot of people felt as though my approval of the holdout was pushing it. A lot of ...
June 4, 2010
Thursday, June 3rd marked the first day of Darrelle Revis' holdout during this offseason. It is very simple: he wants the most money of anyone at his position. He wants ...
May 28, 2010
Is Darrelle Revis the best cornerback ever? If he plays at the level he played last season for five more years, will his name forever be ingrained in the books ...
May 26, 2010
New York Jets owner Woody Johnson recently lobbied for a 2014 New York Super Bowl along with Giants owner John Mara. Obviously the thought of a home Super Bowl for ...
May 6, 2010
Earlier this offseason, it was reported that the Jets were in contact with Bengals wide receiver Laveranues Coles about him suiting up in green and white once again. Well, those ...