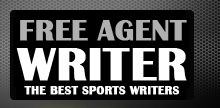 Yankee Addicts
Categories
Featured Sponsors
News published by
June 1, 2010
It appears there won't be a third Jackson wearing green and starting this year for the Eagles. After signing him with the team just a couple months ago, new Eagles safety ...
May 11, 2010
After rupturing his Achilles tendon during a spring mini-camp then receiving surgery for the injury, Steelers coaching staff has announced on Tuesday that third-year wide receiver out of Texas, Limas ...
May 2, 2010
After missing three games at the end of last season due to an 'undisclosed illness' which he claimed to be "personal issues," second-year Pittsburgh Steelers' wide receiver Limas Sweed injured ...
April 22, 2010
With the NFL announcing the suspension of Steelers' quarterback Ben Roethlisberger for at least four games and possibly through Week 7 of the 2010 season, the Steelers' organization is looking ...
April 13, 2010
Maybe we could have seen this coming with all his injuries and the fact he missed the entire season last year. But when the Baltimore Ravens announced Tuesday that they were ...
April 5, 2010
It looks like his time is over. According to Adam Schefter of ESPN , the Philadelphia Eagles have finally decided to trade away franchise quarterback Donovan McNabb to their division rival, ...
March 29, 2010
According to a report by USA Today, Pittsburgh Steelers wide receiver Santonio Holmes has denied assaulting a woman at a night club in Orlando after the woman filed a lawsuit ...
March 26, 2010
PITTSBURGH, PA. -- The Pittsburgh Steelers have re-signed longtime back-up quarterback and hometown boy, Charlie Batch to a two-year deal according to the team website. Financial terms of the deal have ...
March 25, 2010
After being reported that the accuser in the Ben Roethlisberger case was no longer cooperating with police and would not volunteer for an interview, the attorney of the accuser has ...
March 22, 2010
Former Giants wide receiver Mark Ingram Sr., the father of 2009 Heisman winner and Alabama RB Mark Ingram Jr., has been sentenced to two additional years in prison for jumping ...