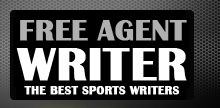 Yankee Addicts
Categories
Featured Sponsors
News published by
October 2, 2011
The Week 4 mailbag features all the fantasy football advice you need leading up to the first kickoff on Sunday afternoon. This next question comes to us from Tyler Kevorkian ...
April 26, 2011
The 2011 NFL draft is just days away and prospects are looking to make a good final impression on NFL teams.On the other hand, some players are making bad impressions, ...
April 19, 2011
Cam Newton appears to be the odds-on favorite to be the No. 1 overall pick in this year's NFL draft.  He has shot up draft boards after many analysts did ...
April 15, 2011
Phil Taylor is the best pure nose tackle in the draft, and for him to still be on the board when the New York Jets come on the clock is ...
April 15, 2011
With Tommie Harris planning to sign with the Indianapolis Colts once the lockout ends, according to Vaughn McClure, the Chicago Bears will need to look to replace him through the ...
April 12, 2011
Casey Wiegmann has informed the team that he is considering retirement and is supposed to announce his decision prior to the draft.Even if Wiegmann decides to return for another ...
April 12, 2011
It is no secret that Tampa needs help on the defensive line, especially at the end position.  Clayborn was a player that was projected to be a top ...
April 12, 2011
The New York Giants could go multiple directions with this pick.  They could look to add depth on the interior of offensive line with either Mike Pouncey, or at offensive ...
April 12, 2011
While the San Diego Chargers could use some help on the offensive side of the ball with an offensive tackle or a wide receiver, they will use the pick on ...
April 12, 2011
J.J Watt will be a perfect addition as a 3-4 defensive end for the Patriots.  He is one of the hardest working players in the draft, and has ...