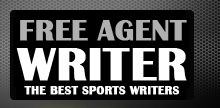 Yankee Addicts
Categories
Featured Sponsors
News published by
November 8, 2010
By Anthony Strait Considering the New York Giants' past troubles playing in Seattle, never in their wildest imaginations would Sunday's game be such a breeze. From the word "go" ...
November 3, 2010
By Tommy Willet We're not going to go into detail about the insanity going over in Minnesota the past few days. If you happen to have been living in ...
November 3, 2010
By Cooper L. Train Earlier in the week we discussed some of the criticisms dropped by Texas Rangers CEO Chuck Schmuelbergstein against fans of the New York Yankees. We dismissed the ...
November 2, 2010
By Anthony Strait With the halfway mark of the 2010 NFL season upon us, one thing is certain: "That's why they play the game." More and more those preseason predictions ...
November 1, 2010
By Cooper L. Train This past Sunday New York Jets punter Steve Weatherford was sent out on a fourth-and-18 in the first quarter, and to the surprise of everyone ...
October 29, 2010
By Cooper L. Train Let's just stop the speculation. There is officially ZERO chance Carmelo Anthony re-signs with the Denver Nuggets. It just isn't happening, and anyone who still thinks so ...
October 26, 2010
If there was a game that measured the character of two teams, Monday night's Giants-Cowboys tilt took the cake. New York overcame sloppy play and a 13-point deficit to ...
October 25, 2010
By Anthony Strait The month of October is coming to a close and the New York Giants are finally playing a divisional opponent. Not since the formation of the ...
October 18, 2010
By Anthony Strait Just because the New York Giants were supposed to win Sunday's game against didn't mean it was going to be a cakewalk. The Giants got key performances from ...
October 18, 2010
By David Serraro For a split second, it looked like the New York Jets were going to fall short at Mile High. Down 20-17 to the Denver Broncos, with slightly ...