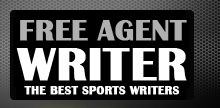 Yankee Addicts
Categories
Featured Sponsors
News published by
September 7, 2010
Cincinnati Bengals owner Mike Brown wanted to come out and be up front about his team's priorities for this season after looking at the roster after training camp. "I know a ...
September 1, 2010
The Minnesota Vikings made it official today, inking veteran quarterback Brett Favre to his usual .4 year contract for the 2010 season. The deal is very good for Favre, who ...
August 26, 2010
The Carolina Panthers announced today that the battle for the starting quarterback job during preseason has ended in a tie. Both incumbent Matt Moore and Jimmy Clausen tried hard to ...
August 25, 2010
It was a gruesome scene today in Denver as the Coors Light Love Train derailed and flew into the stands, killing 58 fans. It was a scorching hot summer day when ...
August 18, 2010
Tim Tebow announced today the opening of the brand new TimTebow.com, a website with premium paid access for reporters and members of the media who just can't get enough of ...
August 16, 2010
News came out of Detroit this morning that head coach Jim Schwartz has been fired by the Lions after a blowout preseason loss to the Pittsburgh Steelers over the weekend. "This ...
August 11, 2010
The Oakland Raiders still could not come to an agreement with their fans today to get them to return this season. This marks week two of the holdout by all ...
August 10, 2010
A huge car accident is being reported in eastern Ohio at the moment, the result of which is apparently an abundance of traffic by NFL reporters traveling between training camps. ...
August 3, 2010
  Albert Haynesworth announced today that he has finally passed the Washington Redskins conditioning test that has held him back from beginning training camp with his team. It was reported over ...
August 3, 2010
We take you through the top fantasy creatures and picks you should make in your draft in the coming weeks. Should you take a dragon with the number one overall ...