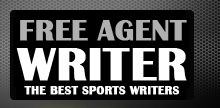 Yankee Addicts
Categories
Featured Sponsors
News published by
February 16, 2011
After back-to-back losses in the AFC Championship in games the New York Jets could have won, what does this franchise do as an encore? For most fans including Head Coach ...
February 5, 2011
As chunks of ice fall off the roof at the site of Super Bowl XLV in Dallas, it was a balmy 70 degrees here in Los Angeles. While airports were closed and ...
January 21, 2011
The last step is always the toughest in any athletic competition. Like a boxer, the New York Jets find themselves in the championship 13th, 14th and 15th rounds as they try ...
January 17, 2011
Perfection is no longer the monopoly of Bill Belichick, Tom Brady and the New England Patriots. The New York Jets (13-5) emerged from the No. 6 seed to defeat the No. 1-seeded New ...
January 12, 2011
If the New York Jets (12-5) are to win in New England Sunday evening against the AFC East Champion Patriots (14-2), they'll need an aerial show from "flyboys" Braylon Edwards and ...
January 9, 2011
The New York Jets kept the legendary Peyton Manning in check and off the field when it mattered in the second half. Gang Green scored 17 second-half points and controlled ...
January 8, 2011
When a side-by-side analysis is made of the 11-5 New York Jets versus the 10-6 Indianapolis Colts, most reasonable people would agree that from top to bottom, the New York ...
January 7, 2011
Almost eight years ago to the day the New York Jets beat up on a young quarterback named Peyton Manning in a first-round playoff blowout that saw Chad Pennington go 19-for-25 with 222 ...
January 2, 2011
While I was just 2-2 in my upset specials, I was a respectable 10-5 overall and that leaves me 142-94 for the season with one week left to go. Home teams tend to ...
January 2, 2011
Winning on Sunday matters. For the New York Jets who have stumbled and spiraled in the month of December need a win to get this train on the right track before ...